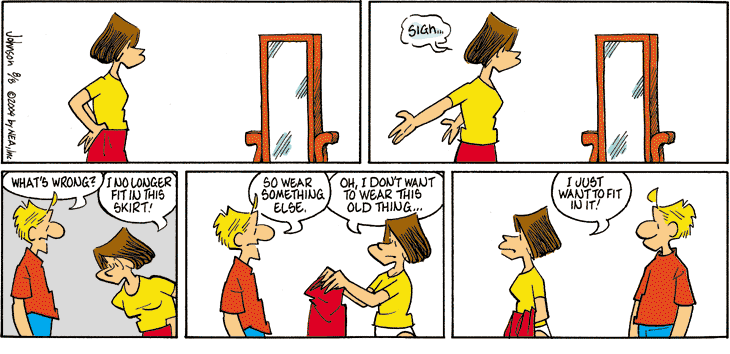 You'll find this interesting. I have never been one to complain about the work of the anonymous souls who color the daily comic strip that appears on the Universal Uclick Web site, the site you go to every day for "Today's A&J." Heaven knows, I make their life miserable enough as it is, being a chronic deadline pusher. However, today's cartoon was botched entirely. I won't go into it, but click on "Today's A&J" above, then take a look at the strip as it was originally drawn, and you will see what I mean. It also will make sense. Well, more sense. Hey! Mistakes happen.
The Lollapalooza Art Sale at Galerie Arlo & Janis ends tomorrow; there are a few selections left. As you won't have any trouble imagining, I'm very pleased with the results. Pecuniary gain aside, it's been fun, but I'll be glad when things get back to normal around here. I figure I owe you a Saturday post, since I missed Friday entirely and so much of the week was devoted to the sale. Check out yet another experimental hair syle for Janis in the retro cartoon above.
I hope you have a good weekend!